Galena, Illinois: A Timeless Treasure
by Philip A. Aleo
Photos courtesy of U.S Grant Sites – Illinois Historic Preservation Agency and Phil Aleo
Bringing a fresh perspective on Galena's history through the written page, numerous newspaper articles from the 1800's, and hundreds of restored vintage photographs, this premium edition book presents the reader with a comprehensive view of what life was like in Galena in the early 1800's.
The photography captured in this book is stunning. The authors' trademark is "Then and Now" Photography. This is his most comprehensive work thus far. This book is a must have for any Galena enthusiast and definitely belongs on the coffee table of every home in Galena.
320 Pages in Length, 4 Color Printed on Premium 100 lb. Gloss Text Paper Embossed Hard Cover with a 4 Color Laminated Dust Jacket; now available in paperback.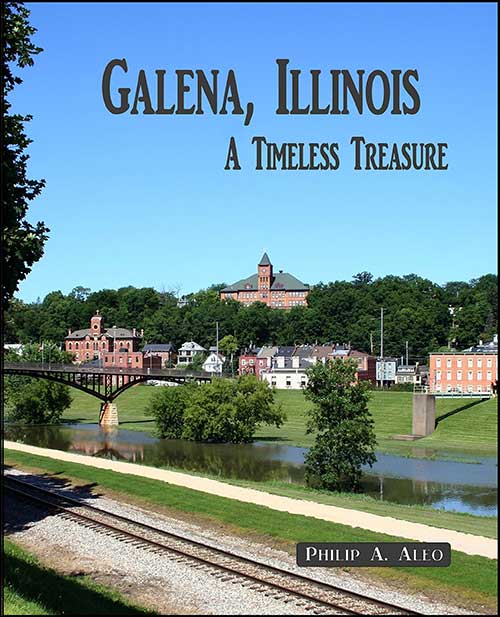 Available locally from these fine merchants:
Galena & US Grant Museum on Bench St.
Gateway to History Museum Store on Main St.
Apple River Fort in Elizabeth
The Galena Gazette
Old Market House – VisitGalena.org Welcome Center
Book World on Main St.
Midwest Medical Center – Whispering Willow Gift Shop
La Vie en Rose on Main St.
Tammy's Piggly Wiggly
US Grant Home
Amelia's Ghost Tours on Main St.
Galena Cellars Tasting Room on Main St.
Ink & Stamp with Sue on Main St.
River Lights Bookstore in Dubuque, IA
Mississippi River Museum Store in Dubuque, IA